The Lucifer and Yahweh Creation Story
The following information is taken from a conversation between members of "Above Top Secret" Forum with a being called "The Hidden Hand" who is a self proclaimed Illuminati Insider speaking on behalf of the "Soul Group" known as Lucifer. I have selected portions that talk specifically about the relationship between Yahweh and Lucifer to be posted in this article.
ATS: Who is your "creator" and is your "creator" the same as our "creator"?
HH: This is an excellent question, which I can use to draw our communication closer to the 'Core'.
Yes and no. You would first need to understand the Creation.
In the Beginning, there is The Infinite One. This is the Source of All. Intelligent Infinity. It is the undifferentiated absolute. Within It, is unlimited potential, waiting to 'become'. Think of it as the "uncarved block" of your Taoist traditions.
Infinite Intelligence, becoming 'aware' of Itself, seeks to experience Itself, and The One Infinite Creator is 'born', or 'manifest' (This appears to your 3rd Density comprehension as "Space"). In effect, the 'Creator', is a point of focused Infinite Consciousness or awareness, into Infinite Intelligent Energy. The One Infinite Creator also becoming self aware, seeks too to experience Itself as Creator, and in so doing, begins the next step down in the Creational spiral. The One Infinite Creator, in focusing It's Infinite Intelligence, becomes Intelligent Energy (which you could call the Great Central Sun), and divides Itself into smaller portions of Itself, that can then in turn experience themselves as Creators (or Central Suns). In other words, each Central Sun (or Creator) is a 'step down' in Conscious awareness (or distortion) from the Original 'thought' of Creation. So "In the beginning" was not "The Word", but Thought. The Word, is thought expressed and made manifest as Creator.
There is Unity. Unity is All there is. Infinite Intelligence, and Infinite Energy. The two are One, and within them, is the potental for all Creation. This state of Consciousness could be termed as 'Being'.
Infinite Intelligence does not recognize it's 'potential'. It is the undifferentiated absolute. But Infinite Energy recognizes the potential of 'becoming' all things, in order to bring any desired experience into 'being'.
Intelligent Infinity can be likened to the central 'Heartbeat' of Life, and Infinite Energy as the Spiritual 'Life-blood' (or potential) which 'pumps out' for the Creator to form the Creation.
This image may assist your comprehension: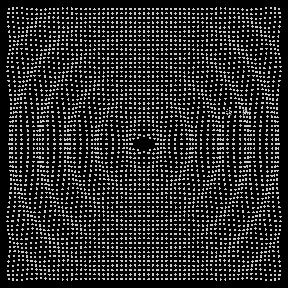 Creation is based upon the 'Three Primary Distortions of The Infinite One'.
1). Free Will:
In the first Law (or distortion) of Creation, the Creator receives the Free Will to know and experience Itself as an individuated though (paradoxically) unified aspect of The One.
2). Love:
In the second Law of Creation, the initial distortion of Free Will, becomes a focus point of awareness known as Logos, or 'Love' (or The Word in biblical terms). Love, or Logos, using It's Infinite Intelligent Energy, then takes on the role of co-creating a vast array of physical illusions ('thought forms') or Densities (which some call Dimensions) in which according to It's Intelligent design, will best offer the range of 'potential' experiences in which It can know Itself.
In effect, the One Infinite Creator, in dividing Itself into Logos, could be termed in your 3rd Density understanding as a 'Universal Creator'. In other words, Logos, creates on a Universal level of Being. Logos creates physical Universes, in which It and the Creator may experience theirself.
("Let there be Light")
3). Light:
To manifest this Infinite spiritual or 'Life-Force' Energy into a physical thought form of Densities, Logos creates the third distortion, of Light. From the three original Primary distortions of The One into making the Creation, arise myriad hierarchies of other sub-distortions, containing their own specific paradoxes. The goal of the Game is to enter into these in further divions of Creation, and then seek to harmonize the Polarities, in order to once again know Oneself as the Creator of them.
The nature of all such physically manifest Energy, is Light. Wherever thus exists any form of physical 'matter', there is Light, or Divine Intelligent Energy at it's Core or Centre.
Something which is Infinite cannot be 'other than', or 'many', An Infinite Creator knows only Unity. Thus, drawing upon It's Infinite Intelligence, the Infinite Creator designed a blueprint based on the finite principles of Free Will of Awareness and sub-level Creations, which in turn, could become aware of themselves, and seek to experience themselves as Creators. And so the "Russian Doll" style experiment was 'stepped down' and down and down. Levels of Creation within levels of Creation.
The One Infinite Creator (or Great Central Sun) steps down It's Infinite Energy to become Logos. Logos in turn designs vast Universes of Space (as yet unmaterialized), stepping down and splitting Itself again, into Logoi (plural), in other words, into an array of Central Suns which will each become a Logos (or 'co-creator') of It's own Universe, with each unique individualized portion of the One Infinite Creator, containing within It as It's very essence, Intelligent Infinity.
Using the Law of Free Will, each Universal Logos (Central Sun) designs and creates It's own version or perspective of 'physical reality' in which to experience Itself as Creator. Stepping down again, It focuses It's Intelligent Energy and creates the unmanifest form of Galaxies within Itself, and splits Itself into yet further 'co-creator' portions ('Sub-Logos' or Suns) which in turn will then design and manifest their own ideas of physical reality in the form of points of Conscious Awareness that we call Suns Stars and Planets.
A 'planetary entity' (or 'Soul') begins the first Density of experience, into which another individualized portion of The One can incarnate. Just as with all Logos and Sub Logos of Creation, each Soul is yet another smaller unique portion of The Infinite One. At first, the Intelligent Energy of the planet is in a state that you could call 'chaos', meaning that It's Energy is undefined. Then the process begins again. The planetary Energy begins to become aware of Itself (the 1st Density of awareness is 'Consciousness'), and the Planetary Logos (sub-sub-Logos in effect) begins to create other downward steps within Itself, and the internal make up of the planet begins to form; as the raw elements of air and fire combine to 'work on' the Waters and Earth, thus arising conscious awareness of their 'being', and the process of 'evolution' begins, forming the 2nd Density.
2nd Density beings begin to become aware of themselves, as being 'separate', and thus begin to evolve toward the 3rd Density of self-conscious-awareness, (the lowest Density into which a 'human soul' can incarnate).
Humans in turn (or the Souls incarnated within them), seek to 'return to the Light' and Love, from which they came, as they begin the journey of progression, from 3rd Density up to the 8th Density, and the return to The Infinite One-ness.
Explanation of the Densities beyond 'normal' human consciousness is another question though, so if you wish to know more about them, someone will need to ask an intelligent question which I can respond to, so as not to impinge upon your Free Will not to know.
So, having set forth the above, I can return to further elucidate on your original question:
ATS: Who is your "creator" and is your "creator" the same as our "creator"?
HH: As I said, yes, and no. Ultimately, every living thing (and all things are living) is created by the One Infinite Creator's initial Universal Creation. So yes, taken from that perspective, The One Infinite Creator focuses It's Infinite Intelligence into an awareness point of Infinite Energy, and brings the whole of Creation into Being, though, we are not directly created by the One Infinite Creator, but rather by our own Logos', Sub-Logos, and Sub-Sub-Logos and so on. So from that perspective, whilst we are all essentially 'made up' of the same 'stuff' of Creation, initiated by the One Infinite Creator, our actual personal Creators are different portions or Sub-Logos of The One. In other words, yes, our Creator, whilst originating from the same Source, is not the same entity as your Creator.
Which brings me on to a question from another poster (I will continue with your other questions afterwards, but this enables me to indirectly answer the first aspect of your question without having to ask you to rephrase it, due to having to carefully dance around the Free Will issues).
ATS: You say that you come from 13 origonal blood lines. Yet the dna mapping project clearly proved that all humanity desends from only 3. Does this mean you arent human?
HH: An excellent question, thank you. Yes, that is correct, in a manner of speaking. If you were to meet me walking down the street, I would appear just as human as you do. We've been incarnating here with you for generations, yet, our bloodlines do not originate from this planet.
ATS: Your answer to the 6 displines of learning are quite similiar to a book about atlantis that was supposed to have been channeled, was this also a time for your bloodlines to post answers?
HH: Yes, that is correct, again, in a manner of speaking. Other, shall we say "off world entities" also visited the planet at that time, and passed down their own understandings of Creation as well as their 'technology', from what we could best describe as being 'a future aspect of yourselves'. It was Humanity's errors in handling this information that ultimately led to the destruction of Atlantis.
Having now answered a question on whether or not our lineage is of Human origin, I can return to tie in that answer with an explanation as to "Who is our Creator". I'm dancing close to the line in answering this, but the record needs to be set straight, and I should just about be able to get away with it without incurring my own 'upline's' displeasure.
Let us get to the crux of the matter.
Your Creator, the one you have called 'Yahweh', is not "God" inasmuch as your bible refers to him as being "the One True God". He is 'a' Creator (or Sub-Sub-Logos) rather than the One Infinite Creator. He is not even a Galactic level Logos, but rather, is the Planetary Logos for this one planet.
Our Creator, is the one you refer to as 'Lucifer', "The Light Bearer" and "Bright and Morning Star".
Our Creator is not "The Devil" as he has been spuriously portrayed in your bible. Lucifer is what you would call a "Group Soul" or "Social Memory Complex", which has evolved to the level of the Sixth Density, which in effect, means that he (or more accurately "'we") has evolved to a level sufficient that he (we) has attained a status equal or arguably 'greater' than that of Yahweh (we have evolved higher than him). In appearance, were you to gaze upon Lucifer's fullest expression of our Being, the appearance would be that of a Sun or a "Bright Star". Or, when stepping down into a 3rd Density vibration, we would appear as what you may term an 'Angel' or 'Light Being'.
Allow me to elucidate:
When an entity (Group Soul Complex) evolves to the level of the Sixth Density, it is by comparison to the amount of time it takes to get that far, a mere hop skip and a jump from 8th Density Ultimate Re-Union with The One Infinite Creator, and then from there, back to dissolution into the Source of All, Intelligent Infinity.
We (our Bloodline Families), as a Group Soul or Social Memory Complex (Lucifer), were on the verge of Seventh Density Ascension, though at this level, before Harvest comes, we have the choice to progress higher, or, to return to help others of lower densities with their own evolution, by passing down our knowledge and Wisdom (Light) to those that call upon us for assistance, with their own Free Will.
Now, at this time, having made our decision to stay and help our Galactic Brothers and Sisters in The One, we were assigned a challenging task by the Council of Elders, who act as the Guardians of this Galaxy from their Eighth Density 'Head Quarters' on the planet Saturn.
Yahweh, due to the fact that he had NOT (as was his right as Planetary Logos) handed down his own Free Will to "know thyself" to those incarnating upon 'his' planet, was having very little evolutionary progress therein. So we (Lucifer) were sent to help. Once the order was given from the Council of Elders, we "Fell", or Descended back to a place where we could, with hard work and focus, once again materialize a 3rd Density manifestation of ourself.
Yahweh had agreed to our coming, in fact it was he who had initially asked the Council for a "Catalyst" of change to enter into his Creation, and share the knowledge and wisdom we had attained through our Ascensions. In the absence of Free Will upon the planet, there can be no Polarity, and therefore, nothing to 'choose' between. Just as is portrayed in the book of Genesis, the planet was very "Edenic" in nature. Sure, it was a lovely 'paradise', yet the Beings incarnating there had no agitator toward evolving beyond the 3rd Density, and therefore, little hope of ever making the journey Home, to The One. Yahweh has been happy to keep his own little pet Eden Project in effect, but with little chance of the Souls here making it Home, it had become in effect, an albeit very beautiful 'Prison'. Yahweh was, in modern parlance, running a benign dictatorship.
……
Without Polarity, (derived from Free Will), there is only the Unity of Love and Light, and no choice to experience 'other than' that. So, we were to be the Catalyst for change, in order to provide that choice, thus bringing Polarity. Yahweh agreed that we would introduce the concept of Free Will to Earth's inhabitants, by offering them an initial choice, as to whether they 'wanted' it or not. Hence, "The Tree of the Knowledge of 'Good and Evil'" (or more accurately, the Knowledge of Polarity, of Positive or Negative). Yahweh takes his inhabitants to a new 'garden' and tells them you can do anything you like, except this one thing, thus creating the desire to do the one thing there are told they cannot. Hence, a "Choice". We provide the Catalyst by telling them the benefits of attaining Knowledge, they eat from the tree, and the rest is history.
Yahweh thought that his 'Children' would still choose to obey him, and when he discovered they did not, he became angry. As he himself describes in his scriptures, he is a "Jealous God", and he did not like it that his 'children' had chose to disobey him, and follow our advice. We're already committed to being here for a predefined set of "Cycles" to help provide the Catalyst for Human evolution, namely by offering you the Negative Option, or that which you choose to call "evil". Now that Free Will had been granted, Yahweh could not retract it, and we have to stay here as contracted to continue to provide the planet with the Polarity choice. Since then, Yahweh has confined us (as a Group Soul) here within the Earth's Astral Planes (which is very constricting and uncomfortable for a Being of our Wisdom and experience). The Council of Elders gave us the choice to be released (against Yahweh's will), but at the cancellation of our contract to Serve the planet earth; or to remain and fulfil our assignment, and endure Yahweh's self proclaimed "Wrath". We stayed, but as a karmic result of our Group Soul's confinement by Yahweh, our own individuated Souls were given the mandate (by The Council) to "Rule" over Yahweh's people during our physical incarnations here on your planet.
Let's be clear about one thing though. All of this (physical life / incarnation), is a very intricate and skillfully designed Game, whereby the One Infinite Creator, plays the game of forgetting who It is, so that It can learn to remember, and in doing so, experience and know Itself as Creator. All the way down to us tiny individuated sparks of the All That Is. Off stage, and between "Lives" (zero-point time / anti-matter Universe) as incarnated "human beings", we, all of us / you (as Souls), are great friends. Brothers and Sisters in The One.
Between 'lives' we all have a great laugh about the parts we have performed in the 'play', and look forward to and have great fun preparing the next chapters to act out.
- The Hidden Hand (Channeling Lucifer – Sixth Density Soul Group)
"There were Ruling-Bloodlines long before your 'Yahweh' and his 'Christianity' arrived on this planet. Yahweh is 'a' Creator, not 'The' One Infinite Creator. There are other and Higher 'gods' than him. Ultimately, All, are a part of The One, and either consciously, or unconsciously, exercising their Free Will to Create. Begin to study 'outside of the box' for a True understanding of the Creation."
- The Hidden Hand (Channeling Lucifer – Sixth Density Soul Group)
"There is much truth in some of the ancient Gnostic texts, though there are also distortions. The information is not 'pure'. It came through many 'filters'.
You are indeed what you call "Divine Souls"; you are sparks or seeds of The One Infinite Creator. You are Life Itself (Light), remembering and learning who you really are (we came here to help you to do this) and yes, currently, you are trapped (or more accurately "Quarantined") within the 'matter' of this planet you call Earth.
You can thank your Creator Yahweh for that. You are the 'offspring' or individuations of his Group Soul (or Social Memory Complex). Macrocosmically speaking, you ARE Yahweh. The 'Karmic' effect of his imprisoning us in his Astral Planes, also has an impact upon you. I cannot be more specific on this, without impinging on the Law of Confusion. You must work it out for yourselves."
- The Hidden Hand (Channeling Lucifer – Sixth Density Soul Group)
"Understand, that we HAVE to be Negative. That's what we were sent here to be. It is our contract, and it has always been to help you, by providing the "Catalyst" I spoke of earlier. Being Negative is very hard for us, not on a physical level, (the characters we play enjoy our roles, as we're programmed that way), but on a Spiritual level, it is hard. We surpassed the lowly negative vibrations eons ago. We are Light, and we are Love. It is a very hard thing for us to do Spiritually, to create all this Negativity, but we do it because we love you, and it is for your highest good, ultimately. You could say, that it is our Sacrifice that we have made, in order to be of Service to the One Infinite Creator, and to you, our Brothers and Sisters in the One.
Remember, we are all just acting out a grand old game here, where we agree to forget who we really are, that in the remembering, that we may find each other again, and know that we are One. That All of Life, is One."
- The Hidden Hand (Channeling Lucifer – Sixth Density Soul Group)
ATS: Regarding our enslavement, you seem to be saying – essentially – that as fractions of our Logos Yahweh, we are equally responsible for his decision to keep us trapped here on our 3rd density planet Earth. That's an interesting thought. In that sense our total freedom must arrive through a collaborative spiritual effort.
HH: From a certain perspective, what you say is correct. From a 3rd Density view, you see yourselves as being "separate" from everything. From a higher perspective, you see that is not at all the case. You and your Creator, are One. As to your statement on your 'total freedom', you are not responsible for those around you. You and they are all One too, when seen from a higher Density, but in this Density, you are here to work upon yourself. You are here to remember who you are, and why you are here. You are here to remember the Infinite Creator. To know your Creator within you, and to offer your Service to him, and others, of your own Free Will choice to Serve. The one comes before the other. When you remember who you are, and you know it, deep within the Core of your Being, you will know and recognize your 'invisible' connection to All that Is, and in so doing, Joy, and Thanksgiving, and Service, will be the natural outpouring result, from your grateful heart. When you work upon yourself, and learn to know the Creator within you, being of Service to Others will be natural for you, and your Glorious Harvest shall await.
ATS: One thing I don't get – and perhaps you can explain this to me Hidden-Hand – is why those who belong to Lucifer (and Lucifer himself) do not fight for the freedom of all souls? If Lucifer represents liberty, freedom of will and knowledge, why do those who serve him not do as the Biblical Lucifer did and rebel against the tyranny of the Elders?
HH: This is a very good question, thank you. I will split it into two parts, and answer the second part after this. Firstly, the Council of Elders are the absolute opposite of tyrannical. They are the Wise and Loving Guardians of our Galaxy. There is so much that one cannot understand from only a 3rd Density perspective. When you reach higher Densities, you see that ultimately, everything balances, and there is only Unity. All else than Unity, is Illusion, or 'thought-form'.
The Council gave us a set of choices. We chose to stay here to help you, despite the cost to ourself. That is the nature of Loving Service to Others. The ultimate paradox in all this, is that in this storyline we are all co-creating together, in order for us to be of the most Service to you, we must be utterly self serving. I do so love our Creator's sense of irony.
As to the first part of your question, the biblical depiction of "War in Heaven" is not entirely inaccurate. I shall explain. Our initial contract, was to introduce the Catalyst for Free Will on this planet. When Yahweh initially began discourse with the Council of Elders, he was not initially looking for help with introducing Free Will, but rather for guidance on how he could best speed up his (and his inhabitant's) evolutionary process. As I mentioned, he was running a benign dictatorship. We had at that time, just completed an assignment in Tau Ceti, and had reported for our next duties. We (as Group Soul Lucifer) were sent on a "fact finding expedition" as it were, to visit Earth, and meet with Yahweh, to evaluate his planetary Creation Laws, and make suggestions on how best he could help his "offspring" (this is the term I shall use to describe the Souls who comprise the Group Soul) and thusly Yahweh, to progress.
We explored many options, and reported our findings to the Council, and to Yahweh. It was our best evaluation, that the only real and fast track way to increase his evolvement meaningfully, was the introduction of Free Will. It was not specifically the implementation of Free Will that Yahweh wanted help with, it was simply the introduction of a Catalyst. He was not at all pleased with our report that he needed to implement Free Will. He was happy with his little pet paradise, and he didn't want to "loose control" of it. In the end the Council persuaded him that it was the best way, and he reluctantly agreed. We returned to Earth, and had a cordial meeting with Yahweh, discussing how we could best implement the Free Will option. Yahweh was adamant that his offspring would choose to be loyal to him anyway, and that they were so contented with their way of life, that they would always trust him and do as he said was best. That, he said, was his "main reason" that Free Will would not work well as the Catalyst. That's why he agreed to the experiment of the Tree of Knowledge. He believed it would prove him "right". When it did not, he became angry, threw his toys out of the pram, and his offspring out of the garden, and laid a big guilt trip on them about how they had broken his trust and disobeyed him. That's not really an Honourable way for a Logos to behave, but hey, that's the beauty of Free Will I guess.
Next "problem" to occur, was that his offspring were so grateful to us for our help, that Yahweh became (in his own admission) a "Jealous God". Then we had the whole "you shall have no other gods than me" thing. We were not pleased with the situation at all, as a Logos should not be behaving like this with his offspring, they are One, after all. When we attempted to leave the planet to return to the Council, Yahweh prevented our departure. We tried to leave again, and were then thrown down into the Astral Planes and confined therein. The Council ordered us to be released, but said we would have to cancel our contract to help the Souls on Earth to evolve. We didn't want to leave, we found them very likable Beings, really Positively Polarized, and we wanted to stay and help, we just wanted also to be free to come and go as we pleased. The only way we could stay, was to stay confined as a Group Soul, which meant Cycles of incarnation for us (as individuated Souls), which we had not done for a long while. As I've stated before, there is no 'wrong' or 'right' seen from a Higher Density, but there are still consequences for every action. Such is the law of Karmic effect. The contract had already been made between Yahweh, us, and the Council for us to provide the Catalyst so we had a right to be there, the Karmic effect of Yahweh imprisoning us on the Macrocosmic level, was that his individuated Souls would be imprisoned on the microcosmic level. The Infinite Creator gave Yahweh (and all) the gift of Free Will to Create as we choose, but the Karmic effect of his choice was the Council quarantining the planet. A certain evolutionary level is required to be a functioning part of a Positive Unified Galactic Society.
As for "fighting for the freedom of all souls", remember that ultimately, this is a Game, that we are all playing here. We are actors, playing on the "stage of Life". This 'world' is all illusion, or 'though-form'. No one really "dies", and no one is really hurt. In between incarnations, you know this very well. But the rules of the game ensure that you must forget who you really are, so that you believe it is all 'real' whilst you are playing the game of Life. That is an essential prerequisite when you are making choices. Otherwise, the game would be too easy.
This world is not reality. Though we can express Reality in it, if we so chose.
ATS: OK, so your family and fellow elites might be as entrapped in the Earthly realm as we are, but why actively propagate and aid the forces of enslavement?
HH: Because that is the part we have been contracted to play, in this game. In order to "win" (or more accurately to be successful in) the Game, we must be as Negatively Polarized as possible. Service to Self in the extreme. Violence, War, Hatred, Greed, Control, Enslavement, Genocide, Torture, Moral Degradation, Prostitution, Drugs, all these things and more, they serve our purpose. In the Game. The difference between us and you, in the Game, is that we know that we are "playing". The less you know about the Game, and the less you remember that you're a player, the more "senseless" living becomes. In all these Negative things, we are providing you with tools. But you do not see it. It is not what we do, but how you react to it, that is important. We give you the tools. You have the Free Will choice how you will use them. You have to take responsibility. There is only One of Us here. Understand that, and you will understand the Game.
- The Hidden Hand (Channeling Lucifer – Sixth Density Soul Group)
ATS: A lot of what you write seems reminscent of The Ra Material, especially the concept of harvest, STS and STO choices, and intelligent infinity. (More information found here www.llresearch.org… ) Have you read that?
HH: It is indeed extremely similar. We both originate from the Source of the Infinite Creator, and we both remember where we come from. I would expect our messages to contain the same Core Truths.
The messages of the Sixth Density Soul Group 'Ra' is the most accurate information in your mainstream circulation at this point in time. It is approximately 85-90% accurate, from what I have seen. The material was brought to my attention when it first came out, something like about 25 years or so ago, if memory serves. I read a lot of it, but not all. I do not have very much free time for that kind of thing, with my many duties. Though others of the Family gave it a close scrutiny to judge it's accuracy, and were very pleased with the end product.
Ra, in fact, is the group I earlier termed 'off world entities' of which visited the Mayan and Atlantean Civilizations. We are acquainted, and friends. Both our Group Soul's are at a very similar level of development / evolution. Both Sixth Density, nearly Seventh. But like us, Ra also chose the path of Service to our fellow Galactic Brothers and Sisters (you, and others), instead of further progression Home. We would recommend that material for any who truly seek understanding. Though, as I said, it is not 100% accurate, so take what resonates.
- The Hidden Hand (Channeling Lucifer – Sixth Density Soul Group)
ATS: Something I found extremely interesting is the concept of the Grand Age of Precession being split into five 5,125 year cycles. 3113 B.C., the beginning of the current sub-age was a time of great activity. Is the construction of stone monuments in Western Europe, the Middle-East and Egypt at this time related to the recogniton of this cycle? What was the purpose of Britain's stone circles and Egypt's pyramids? They are more than mere markers of an aeon-change. They must have had some enormous significance. Actually, something I'd most like to know is – Were the builders of these monuments members of the enslaved masses who were trying to understand the nature of existence, or were the builders members of your elite bloodline?
HH: Yes, there is significance in these occurrences, according to the space/time of their happenings. The Group Soul Complex Ra, was the architect of these structures. They were Created from Thought. When one understands and sees that all is Illusion, or Thought, one can "use 'The Force" to manipulate the illusions. All things, seen and unseen, are inter-connected Life-Force Energy. Once you know what the magician knows, it's not magic. It's a 'tool of Creation'.
- The Hidden Hand (Channeling Lucifer – Sixth Density Soul Group)
ATS: It is your kind that has ruined the world. Thinking of yourselves are higher then anyone. If i saw you in real life, it wouldn't be pretty.
HH: You lack understanding, not to mention eloquence. To understand "Higher", try thinking 'outside of the box' for a moment. If I am walking along the ground, and you are flying above me in an airplane, does that make you better than me?
No. It just makes you Higher.
- The Hidden Hand (Channeling Lucifer – Sixth Density Soul Group)
ATS: If "Yahweh" is a positive polarity entity, how is he "wrathful" and "jealous"?
HH: Does Yahweh have Free Will? Would you like to think of yourself as reasonably positive? Can you still be wrathful and jealous at times? Is Yahweh a Macrocosm of you?
ATS: Have there been over time other entities pretending to be "Yahweh"?
HH: On occasions, yes.
- The Hidden Hand (Channeling Lucifer – Sixth Density Soul Group)
ATS: A common saying among Christians is "Satan's greatest trick is convincing the world that he didn't exist." I think there are Christians that would look at what you've written and see it as an elaborate ruse to "make the devil look good."
HH: "Satan" is a human invention. Simply the 'personification' you have given to all the Negativity that has existed on this beautiful planet. You didn't know who to 'blame', and as you could not find it within yourselves to take any of the responsibility, "Satan" was created to absolve yourselves.
- The Hidden Hand (Channeling Lucifer – Sixth Density Soul Group)
"I couldn't care less that people do not believe it. I never expected that many would. But what I desired, in asking for the above, was that the message was allowed to be presented in full, with all genuine questions replied to, and then once that process is complete, you can say whatever you like about how much of a hoax you may or may not believe it to be. 
The message will reach all those it is meant to reach, and that is exactly the way it should be. It is what the Creator wants. Those with ears to hear, eyes to see, and a heart to understand, will hear the message, and the seeds planted will grow strong in such fertile soil as these."
- The Hidden Hand (Channeling Lucifer – Sixth Density Soul Group)
ATS: Thank you for posting some of the most interesting information I have ever read. I am a bit of a crackpot and I scour the internet for conspiracies, alternative news, UFO videos and the like. I can't say I'm ready to completely buy what you're selling, but it has definitely resonated with me.
HH: You are welcome, and I in turn thank you, for reading it with an open mind.
I would never ask or expect you to 'buy' what I'm 'selling' If you notice, I have stated throughout our message, that the very last thing I want, is for it to be blindly believed, or taken as 'gospel'.
As I've said. It is yet another in a long line of "Catalysts", that your Infinite Creator has provided you with, down the course of history. A Catalyst is not meant to be believed. It is meant to present you with a challenge to that which you "think" you know, about reality. And that is all it is meant to do.
As always, how you respond to the Catalyst, is entirely up to you. Just the way it always should be.
- The Hidden Hand (Channeling Lucifer – Sixth Density Soul Group)
"This message does indeed "flow from my Being", onto the page.
My area, and that which I spend the vast majority of my time actively involved in, is that of Spirituality. OUR Spirituality, not that of the peoples of the Earth. Others below me deal more in that area.
I could be likened to that of a 'Priest' or a 'Minister'. In the same way as your religions and spiritual teachers have the responsibility of "listening" to the voice of their Creator, and delivering his messages, so to do I.
I have been actively engaged in this role now, for a great many years. It has become second nature to me. Actually, more accurately, it has become First nature. A large part of my role, is to constantly be in the awareness state of our Group Soul (Lucifer). That is why you will notice that I so often refer to "we" even as I am speaking in the first person. That has just become natural for me. I spend most of my time speaking with my Family, as Lucifer, the Group Soul perspective. When I speak henceforth, it is not me (the individual Soul spark) that is speaking to you in essence, but rather, for want of a better description, (because it is far from accurate), you could say that in effect, I am "Channeling" Lucifer. That is why this discourse flows so easily. As some have noted, the chances of me having spent however much vast quantities of time "researching" all this material to "hoax" with, and present it in the fluent method that I do, as in regular daily installments, whilst I guess could be remotely possible, is unlikely in the extreme.
For those who are open enough to receive the above explanation, now you know why, and how it is done. I speak not for myself, but rather, for him who sent me, my own Creator (Lucifer). I know and have experienced that which he knows and has experienced, because essentially, we are One and the same Being."
- The Hidden Hand (Channeling Lucifer – Sixth Density Soul Group)
"For those to whom it may be of some interest, we are of Venusian heritage, originally. What is another name that Venus is called by? Connect the dots."
- The Hidden Hand (Channeling Lucifer – Sixth Density Soul Group)
"If it is not in the mainstream controlled media, it will not be believed by the masses. This is information tailored for those who already know that we are very real, and exerting a strong, if mostly subtle, influence over your lives. If you wish to enslave a man, allow him to believe that he is already free."
- The Hidden Hand (Messenger of Lucifer Soul Group – Illuminati True Upper Levels)
"How do you become free? By working out where you are, and coming to an understanding, of why you are here."
- The Hidden Hand (Messenger of Lucifer Soul Group – Illuminati True Upper Levels)
HH: There is no "Messiah". Stop looking outside of yourself for 'salvation'. Is there what you might call a 'Christ Consciousness' alive, then yes, in a manner of speaking. Though not in your 3rd Density (dimensional) awareness.
ATS: Is it the end-times, as described in the book of revelations?
HH: Yes. Not just described in the Book of Revelations, but also in the prophesies of virtually every religion, spiritual philosophy, and mystery tradition throughout history. This time is now at hand."
- The Hidden Hand (Messenger of Lucifer Soul Group – Illuminati True Upper Levels)
ATS: You mention Alcyone … it's interesting there's a celestial map of it at Hoover Dam. There's also a compass, framed by signs of the zodiac.
HH: Indeed. Just like in Hollywood productions. We hide the Truth right out in the wide open. What humanity is offered as "Science Fiction", more often than not, is actually Science Fact.
ATS: What do the winged statues, commissioned by the U.S govt, guarding the entrance at the dam really represent? Is any of this collection of celestial symbolism found there connected to your luciferian/alien/equinox/transformation agenda?
HH: That is actually very simple. You'll note that the feet point directly downward to the earth, and the hands and wingtips point directly up to the sky. The Life-Force Energy flows into the human mind/body/soul complex from the earth up through the feet. The Intelligent Energy from the Infinite Creator flows down from above and in through the crown chakra. The wings represent our (Lucifer's) inherent Divinity. You'll also note that the figure is seated. "The seat of our (Lucifer's) Power connects Heaven and Earth, and all things must pass through us".
- The Hidden Hand (Messenger of Lucifer Soul Group – Illuminati True Upper Levels)
ATS: Was the 911 ritual the creation of a star gate?
HH: No, it was a Ritual Human Sacrifice. That, and the obvious catalyst for the so called "War on Terror".
- The Hidden Hand (Messenger of Lucifer Soul Group – Illuminati True Upper Levels)
"Religion is either actually created, or at very least, heavily influenced by us. There are many macrocosmic level Creators, or Logos. Our One Infinite Creator, and almost all of our Logos and sub-Logos' want you to understand Creation, and your place within it, as a Co-Creator. Ultimately, there is a "Supreme Being", in the form of the One Infinite Creator, but we are all a part of It, rather than it's subjects. None of the names given for this "Supreme Being" by your religions are the true name, but they are indeed correct, in that there is One Supreme Being, namely the Infinite Creator. They just have different concepts about It, which spring from the texts their religion is based upon."
- The Hidden Hand (Messenger of Lucifer Soul Group – Illuminati True Upper Levels)
ATS: Why all the sudden ramping up of control mechanisms.
HH: The Great Harvest is fast approaching. Time to really bring on the Polar Extremes.
- The Hidden Hand (Messenger of Lucifer Soul Group – Illuminati True Upper Levels)
ATS: Are there any non-corrupted parts of the bible and if what bible version would you suggest?
HH: No. As with all Sacred Texts, they have been distorted from the original information that was given with each translation. Though again, as with all Sacred Texts, there is still much truth hidden within them. Much of it being 'metaphorical'. If you can find pre King James versions, that is the closest you will get. Good luck with that.
- The Hidden Hand (Messenger of Lucifer Soul Group – Illuminati True Upper Levels)
"The 'tall blondes' of which you speak, are of Plejaren heritage. They are working with what is know as the Galactic Confederation of Planets. They serve the Positive vibration. Plejarens are from the constellation you call the Pleiades. It's actual name is the Plejares, hence 'Plejarens'.
And no, we are Lucifer, and nothing directly to do with the Plejarens, though they are indeed good friends of ours.
Many here at this time (millions) have a part to play in the Great Awakening, and preparations for the Great Harvest. Many who do not believe now, will begin to open their minds, as the Earth changes that are coming begin to take effect. People will be terrified, and have no idea what is going on, because the governments have concealed this information from you. These 'Travelers' or what some have termed "Star-Seeds" are incarnated here to help on the ground level, when this all begins play out, over the next few years. When the time is right, they will come forward. Many of these "Star Seeds", are in fact Plejaren. That is why the 'tall blondes' keep 'showing up'. To help their Family awaken to their assignments here."
- The Hidden Hand (Messenger of Lucifer Soul Group – Illuminati True Upper Levels)
"The Earth lines are not aware of the entire picture. They themselves are not of our Lucifer Group Soul, and as far as they are aware, they are out to 'rule the world', to Control and Enslave, and create as much Suffering and Negativity as is humanly possible. That's what they 'get out of the deal'. World Domination. You'd have to say with that in mind, they're doing a great job. But one of the things they don't know or understand, is that our (Venusian Power Lines) agenda, is ultimately for the Highest Good of all concerned, in providing you with the Catalyst. If they were aware of this Truth, there is a slight risk that they would not have done their jobs properly, and they would miss out on joining us in our 95% Negative Harvest. They are aware of the Harvest, and the need for them to attain the 95%, to get out of 3rd Density, and that is all the motivation they need to help us achieve our ultimate aims."
- The Hidden Hand (Messenger of Lucifer Soul Group – Illuminati True Upper Levels)
"I thank you sincerely for your gracious hospitality, and for allowing us to 'use' your 'space' here, for the furthering of our message. And remember, no matter the ideologies that may separate us in this Game, the message is all that matters, and the message is, that in the Love, and the Light of our Infinite Creator, we are All One. Brother's and Sisters of the Light."
- The Hidden Hand (Channeling Lucifer – Sixth Density Soul Group)

Print Friendly